Regular price
Sale price
$90.00 USD
Unit price
per
Sale
Sold out
Grower Pick
This listing showcases a sample image of the Ranchu fish you can anticipate.

These Oranda fish are of show-quality, and they're in their youthful stages.

The majority of these Ranchu fish are handpicked from the finest breeds at our farm.

Upon your order, our team will meticulously select the healthiest and most exceptional fish.

Our team of experts prioritizes the well-being of our fish, ensuring they are in prime condition prior to shipment.

The chosen Ranchu fish will be promptly and carefully shipped to you.

While we will strive to provide you with the finest color variations available, please note that specific colors are not guaranteed, as this listing features randomly assorted Ranchu fish.
Share
View full details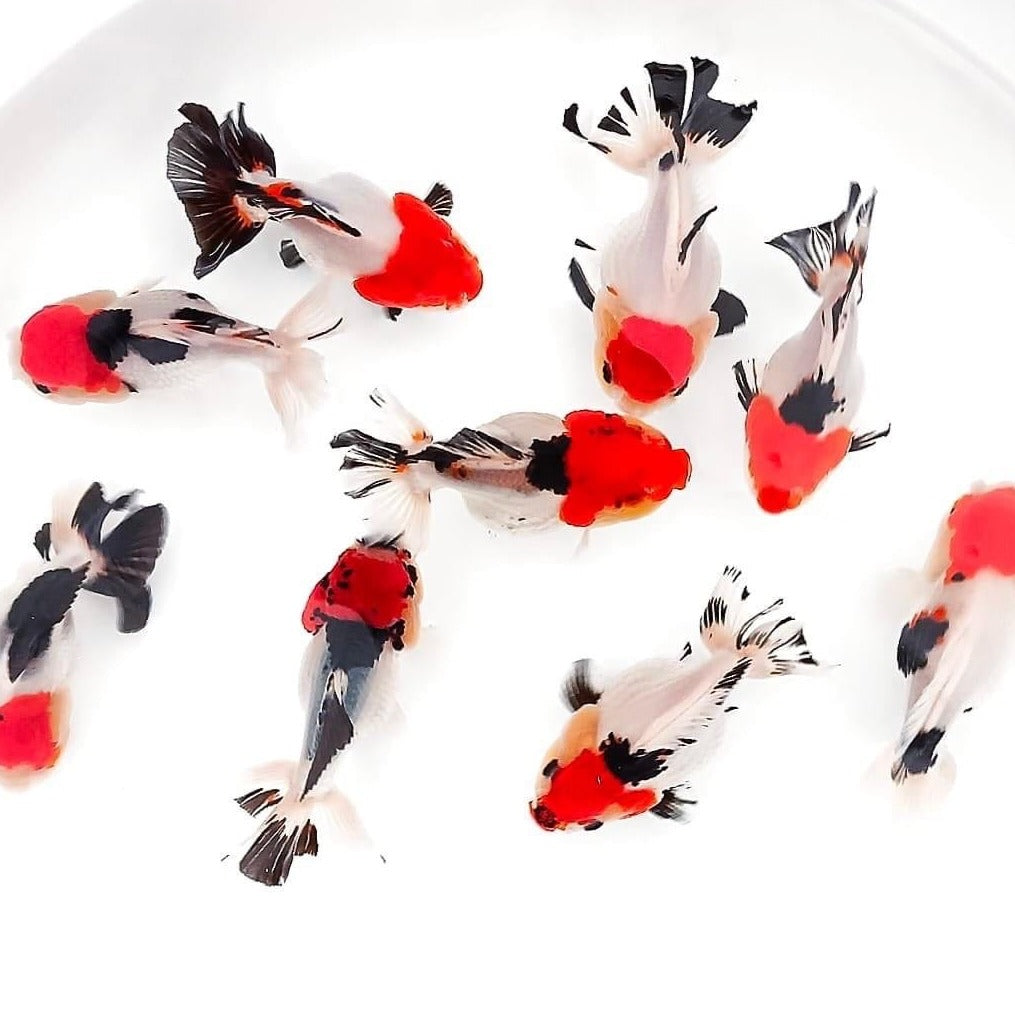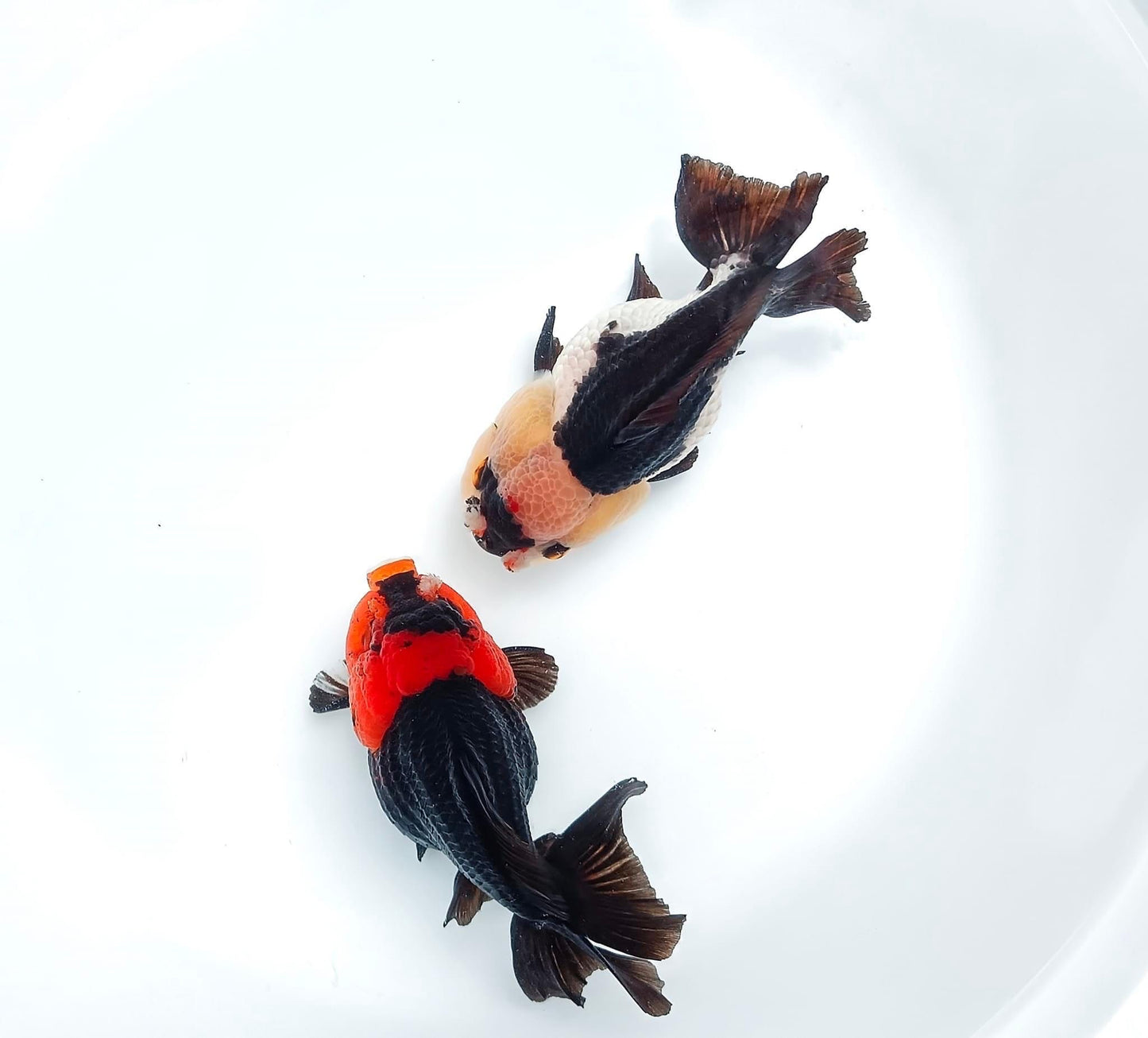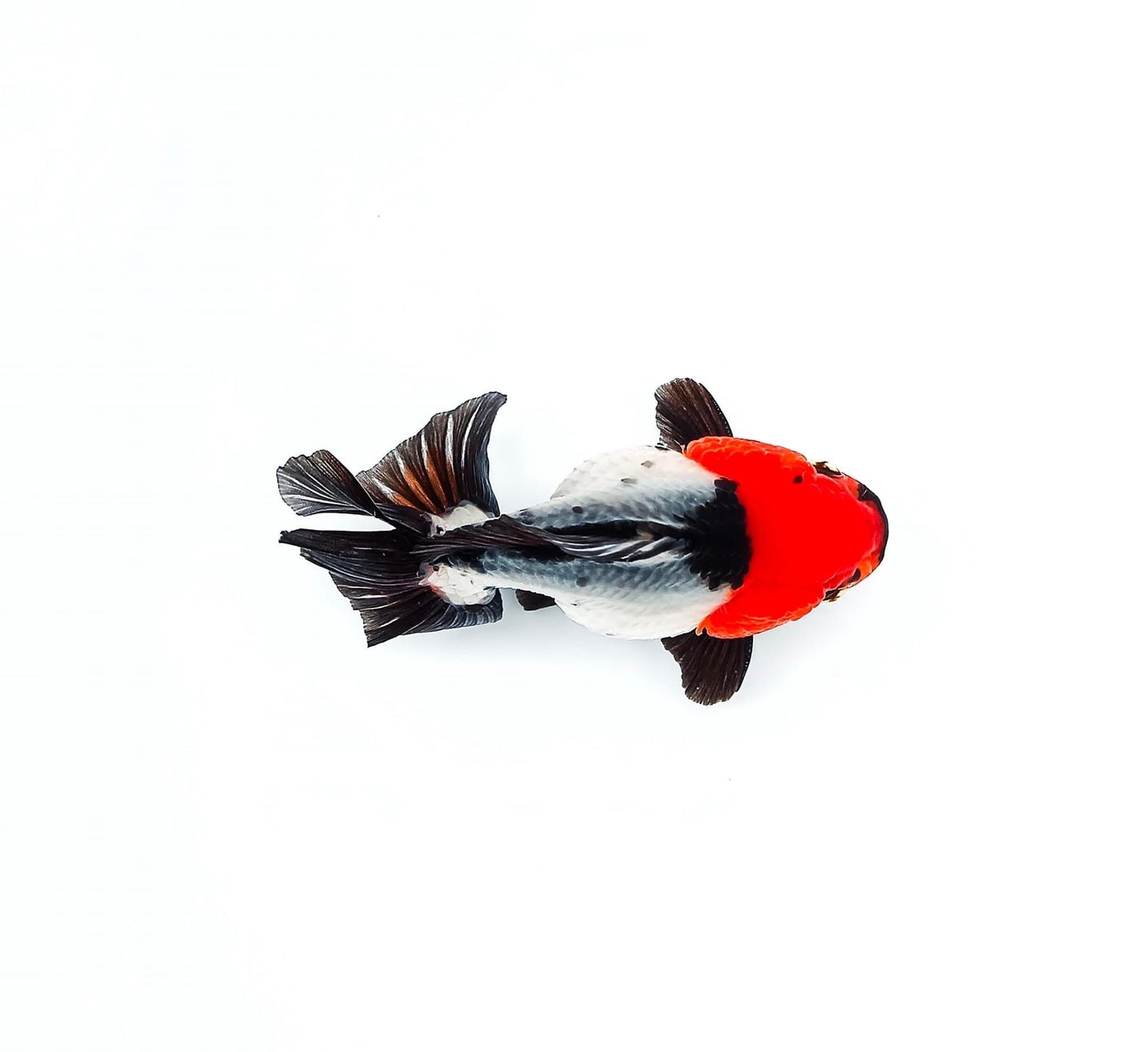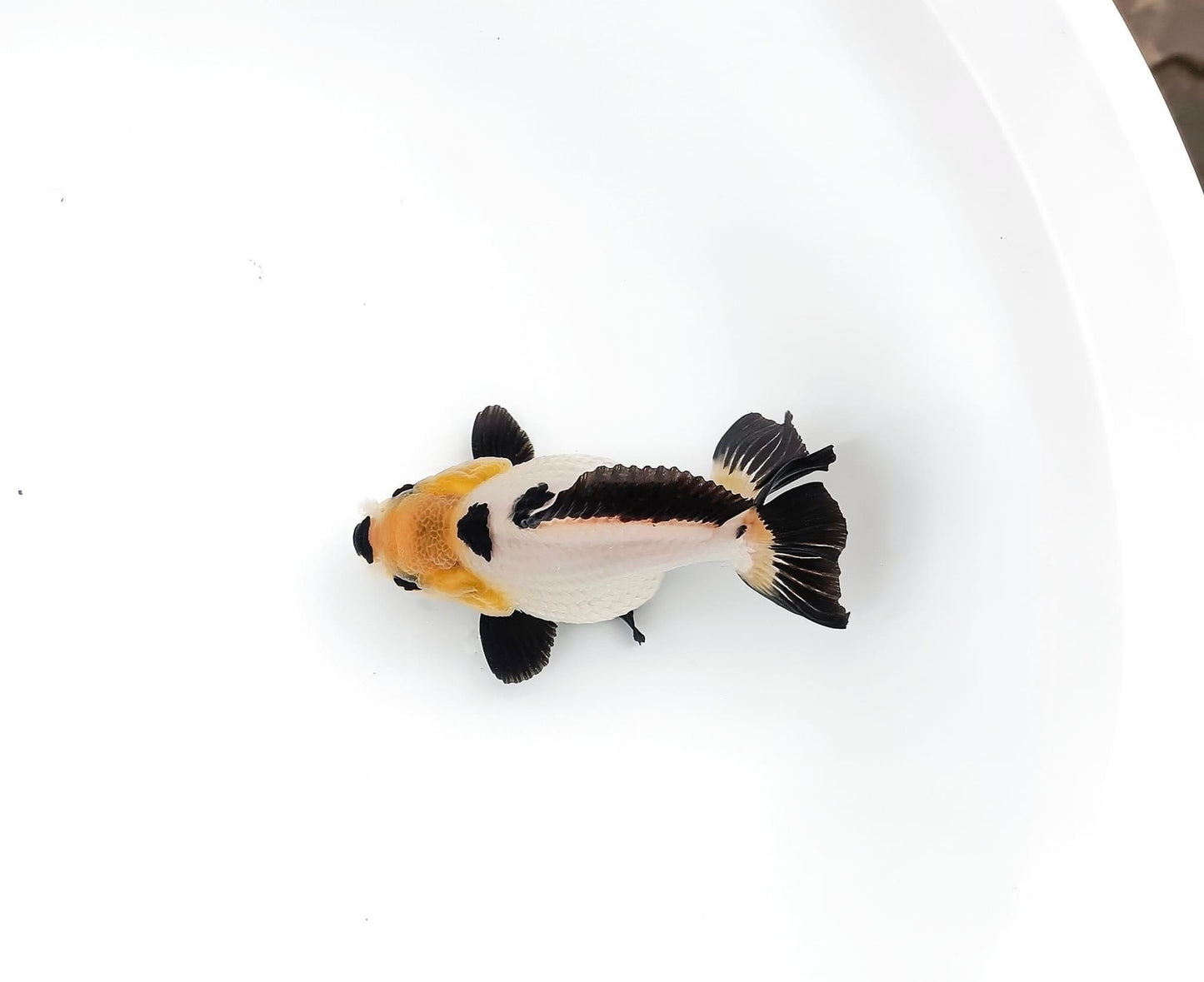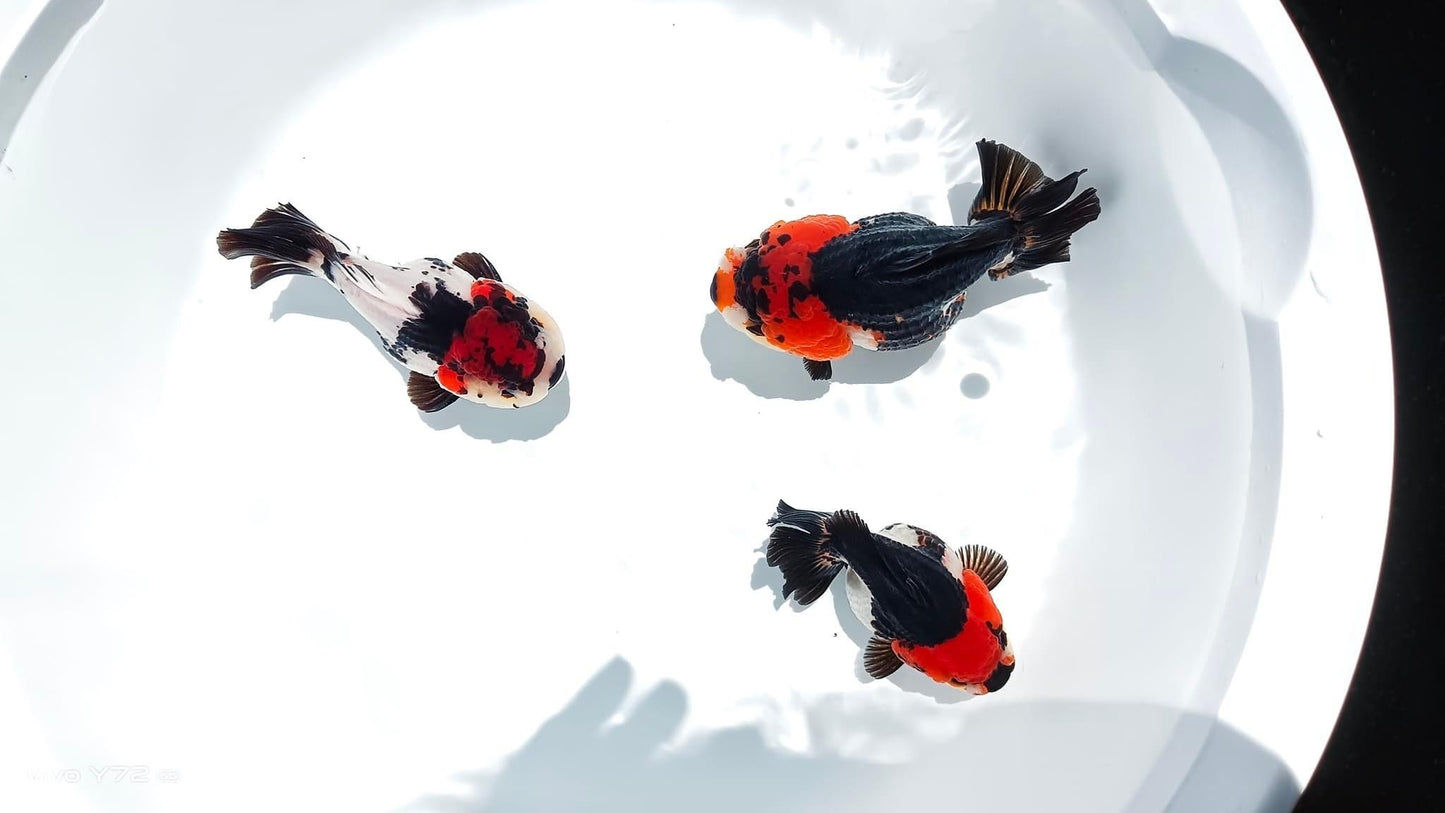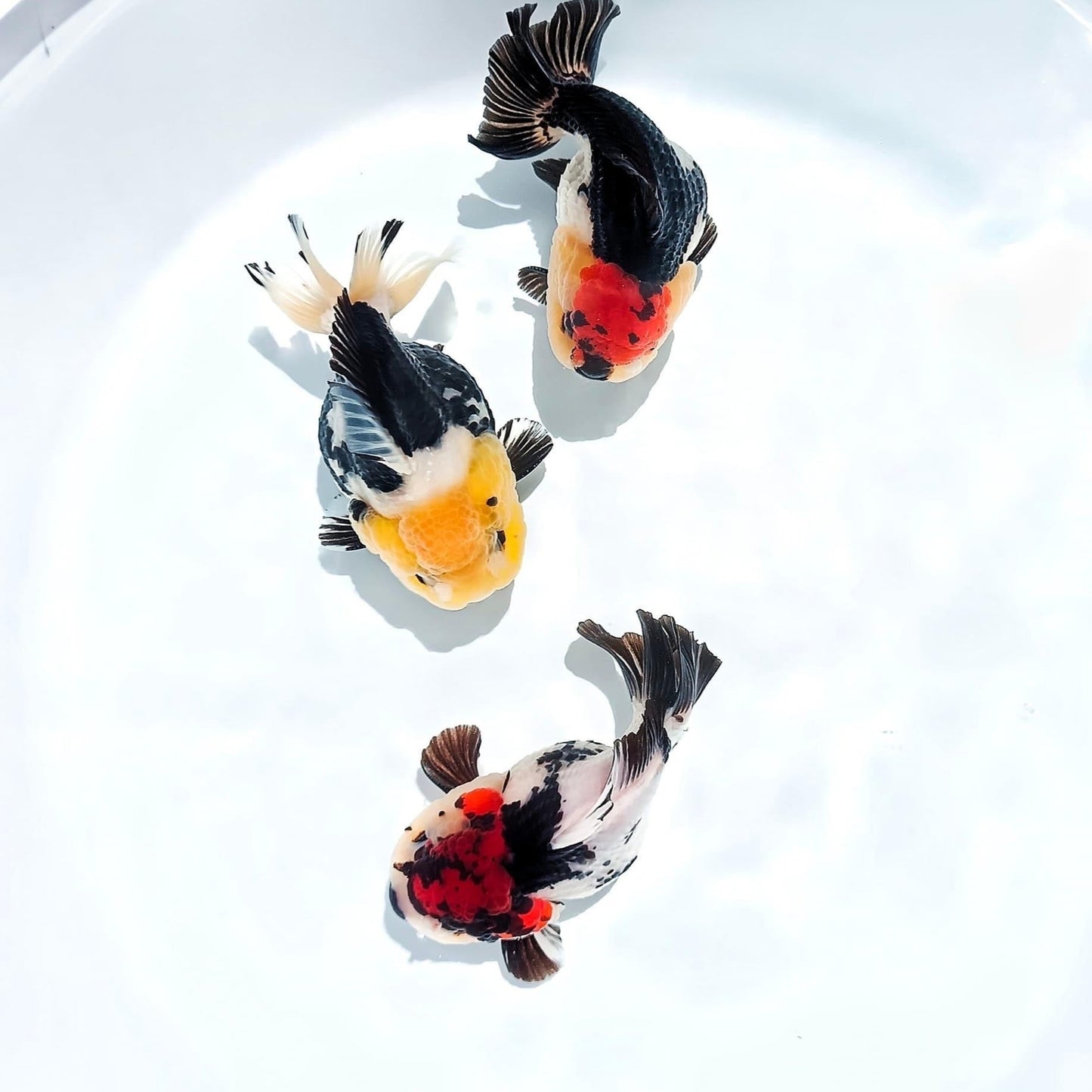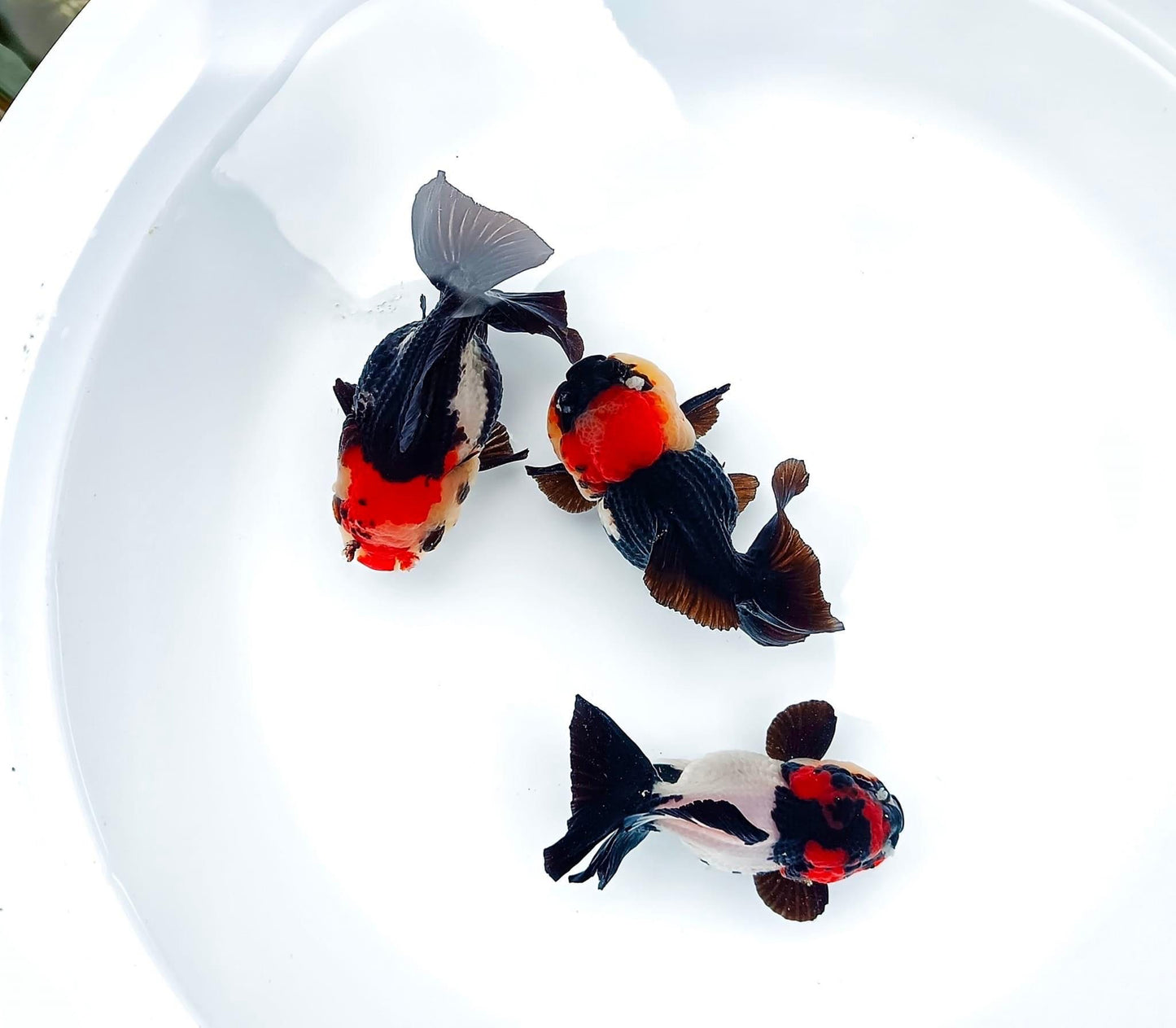 High Quality Fish

We only ship out high-quality fish, shiny colors, and wide tails,...

Flat Shipping Rates $20

At Tropicflow, we are providing new low-cost shipping for fish. The more you buy the more you save on shipping fees. Then you can combine as many fish as you like per order

100% Live Arrival Guarantee

Customer happiness is our first priority. This means that if your order arrives with any dead on-arrival livestock or plants we will offer a refund for the exact cost of the item, or offer store credit that does not expire in the amount of the loss  
Collapsible content
Care Guide

From Tropicflow with Love - Treat your Fish with Knowledge

Moving into a new aquarium tank (home) can be a shock for any creature, but for fish, it is particularly stressful. Not only will a new aquarium tank be completely unfamiliar for your new fish, but the water will likely be of a different quality. Subtle changes in water temperature, pH, quality of water, and other factors make a huge difference in your fish's life. To keep your fish safe and healthy, there are certain measures you should take step-by-step when introducing fish to a new aquarium tank. Here is a process of how to make an easy aquarium to introduce a new fish:

Precautions

Talk to an expert at the fish store or to a veterinarian to make sure the aquarium fish species you are adding will be compatible with your existing aquarium fish species.
Make sure the fish you are adding to your aquarium tank are the proper size for their new environment. Research the species and make sure it won't grow too large for your tank.
Test your water quality before adding your new fish. Your chlorine level should be at zero, and your pH should match a new fish environment. 
Make sure your tank has plenty of places for a fish to hide. Objects, plants, and rocks provide great cover so that your fish will be less stressed.
Feed the fish in your aquarium before adding any new fish. This will make the existing fish less aggressive.
Before adding your new fish, turn your aquarium lights off. You may want to dim the lights in the room as well. This will create a less stressful environment.
Don't be surprised if your new fish is not happy and excited, they just traveled for a long trip to a new home, give them some time.

Adding the Fish

When you are ready to add your fish to the aquarium, you should follow these steps:

Take the sealed bag that your fish came in and float it on the surface of your aquarium's water.
Allow the bag to sit for 10-20 minutes, then open the bag and add a cup of your aquarium's water to it. Reseal the bag and let it float again for another 10 minutes. Slowly add your aquarium's water to it, the key is patience.
Repeat the previous step until the bag is full. Then, you can use a net to transfer the fish from the bag into the tank. Make sure not to pour any water from the bag into the tank.
During the transport, the fish may be shy, heavy breathing, color-changing, swim on the bottom, or hiding. It's will be back to normal after 1-2 days, don't be panic

After this, your fish is free to swim around and explore his new surroundings. Leave the lights off for a few hours as your fish adjusts, and make sure to look out for any signs of aggression in your fish population. And don't feed a new fish for the first 12-24 hours.

 
Refund Policy

Dead on Arrival (DOA)


In the event that you encounter any issues with your order, including receiving fish that are Dead on Arrival (DOA) or the wrong fish, please adhere to the following guidelines when submitting a claim:

Claim Submission Deadline: Your claim must be submitted DOA Form within 2 hours of confirmed delivery. Failure to do so will result in the automatic voiding of your warranty or guarantee.

Submission of Evidence: Capture a clear video and photograph of the deceased or incorrect fish within the unopened bag when submit DOA Form

Required Information: Ensure that your full name and phone number are included in the email. We cannot assume responsibility for fish that perish due to the customer's unavailability to accept the delivery on the first attempt. Please make arrangements to be present to receive your package upon its arrival.

Prompt Contact: To have your DOA or incorrect fish claim honored, please reach out to us within 2 hours of the package's delivery. We will use the carrier's tracking information to verify the delivery time.

Please Note: We offer store credit exclusively for valid DOA claims. Upon the submission of your claim, we will issue credit to be used toward a future purchase. Keep in mind that shipping costs are non-refundable, and the buyer is responsible for the shipping costs associated with any replacement fish.

We put forth considerable effort to ensure that you receive healthy, live fish with a long and happy life ahead in your aquarium. However, we also need to maintain our financial sustainability. Your understanding and adherence to these terms and policies are greatly appreciated. Feel free to contact us with any questions or concerns before making a purchase.

Order Cancellation Policy

This cancellation policy is applicable to all purchases made through our online platform. Please carefully review the following terms and conditions:

Orders Held for More Than 1 Week: Orders held for over a week can be cancelled, but only 50% of the total order value, including shipping costs, will be refunded. This is due to the restocking fee associated with managing these orders.

Standard Restocking Fee: A restocking fee of 15% of the total order value, including shipping costs, will be deducted from all refunds for cancelled orders. This fee helps cover the administrative costs related to restocking our inventory and the resources left unused due to the cancellation.

Cancellation Within 48 Hours of Departure: If a cancellation request is made within 48 hours of the scheduled shipping date, a restocking fee of 50% of the total order value, including shipping costs, will be charged. This fee encompasses the resources and costs associated with preparing your order for shipment.

Please Note: The decision to make a purchase should be taken seriously. Preparing live goldfish for shipment involves several steps, including a fasting process and the professional packaging of the fish. The restocking fee assists in covering these preparation costs. Your understanding and consideration are greatly appreciated when making purchasing decisions.

By placing an order with us, you agree to this cancellation policy. If you have any questions or concerns about this policy, please don't hesitate to contact us.

Thank you for supporting our small business!

Tropicflow Team!

 

 
Shipping Policy

To make sure the fish shipped to you are healthy, all fish sold are subjected to at least 1 days of fasting before shipping out.
To avoid packages being delayed/held at the post office on the weekends, we only ship out on Monday, Tuesday and Wednesday.
Actual shipping carrier might be different from the customer's choice as we will switch carriers if the faster shipping time is offered from other carriers
Please be sure to be available on the delivery date or at least have a well protected container for receiving the package in case you are not available.