Share
Regular price
Sale price
$15.00 USD
Unit price
per
Sale
Sold out
Flat Rate Shipping As Low As $21

At Tropicflow, we strive to make the shipping process as affordable and convenient as possible for our customers. Our flat-rate shipping starts as low as $20, and the more fish you purchase, the more you save on shipping fees. We encourage our customers to combine as many fish as possible in each order to take advantage of these cost-saving opportunities.
High Quality Fish Only

At Tropicflow, we take pride in shipping only the highest quality freshwater fish to our customers. Our fish are carefully selected for their excellent health, vibrant colors, and wide, full tails.
100% Live Arrive Guarantee

At Tropicflow, we stand behind the quality of our products and offer a 100% Live Arrival Guarantee on every shipment we send out. If any of the livestock or plants in your order arrive dead on arrival, we will provide a full refund for the exact cost of the item or offer store credit that does not expire in the amount of the loss.
Description
Full Body Blue Color With Various Shade from Light Blue To Deep Black
Recommended tank: To enhance the color of the fish, we recommend a black background or a dark, side-view tank
Delta/Triangle Tail
Age: 3-4 Months Old
Size :

1 - 1.5 inches

(

the males are slightly smaller than females

)
Breeder Source: Vietnam 
View full details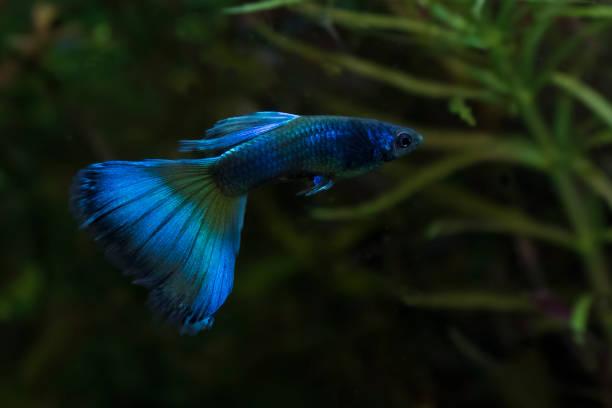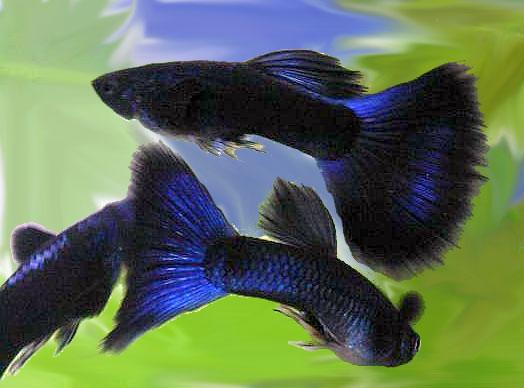 High Quality Fish

We only ship out high-quality healthy fish, shiny colors, and wide tails. All fish got 2 days of quarantine before shipping to ensure they are ready to travel to a new home

Flat Shipping Rates $20

At Tropicflow, we are providing new low-cost shipping for fish. The more you buy the more you save on shipping fees. Then you can combine as many fish as you like per order

100% Live Arrival Guarantee

Customer happiness is our first priority. This means that if your order arrives with any dead on-arrival livestock or plants we will offer a refund for the exact cost of the item, or offer store credit that does not expire in the amount of the loss  
Collapsible content
How does Pre-order work?

Pre-ordering fish from Tropicflow is a simple process that can help you get the fish you want without having to worry about availability. When a particular fish is not currently in stock, but is expected to be available in the future, we will provide an option to pre-order it. Our team will then ensure that the fish is imported and delivered to you as soon as it becomes available.

Customers can then expect to receive their pre-ordered fish on the next import day. This can be a great way to ensure that you get the fish you want without having to compete with other customers.
How long do I have to wait for a Pre-order?

Your order will be imported on the next scheduled import day. Tropicflow follows a monthly schedule for importing new fish.

For example: If you place a pre-order in April, you can anticipate receiving your order during the following month, which is May.
Will the fish I Pre-order be exactly the same as the one shown in the picture?

Each betta fish is unique, and we make every effort to select the closest matching fish to your pre-order request. Hence, the fish you receive may have slight differences such as size and color saturation.
Benefits of Pre-Ordering Fish

Pre-ordering can give you the opportunity to get rare or hard-to-find fish that may not be regularly stocked.
Get exclusive deals and discounts on pre-ordered fish.
Pre-ordering can save you time and effort, as the fish will be delivered straight to your doorstep once available.
Be one of the first customers to receive the new fish stock.
Care Guide

From Tropicflow with Love - Treat your Fish with Knowledge

Moving into a new aquarium tank (home) can be a shock for any creature, but for fish, it is particularly stressful. Not only will a new aquarium tank be completely unfamiliar for your new fish, but the water will likely be of a different quality. Subtle changes in water temperature, pH, quality of water, and other factors make a huge difference in your fish's life. To keep your fish safe and healthy, there are certain measures you should take step-by-step when introducing fish to a new aquarium tank. Here is a process of how to make an easy aquarium to introduce a new fish:

Precautions

Talk to an expert at the fish store or to a veterinarian to make sure the aquarium fish species you are adding will be compatible with your existing aquarium fish species.
Make sure the fish you are adding to your aquarium tank are the proper size for their new environment. Research the species and make sure it won't grow too large for your tank.
Test your water quality before adding your new fish. Your chlorine level should be at zero, and your pH should match a new fish environment. 
Make sure your tank has plenty of places for a fish to hide. Objects, plants, and rocks provide great cover so that your fish will be less stressed.
Feed the fish in your aquarium before adding any new fish. This will make the existing fish less aggressive.
Before adding your new fish, turn your aquarium lights off. You may want to dim the lights in the room as well. This will create a less stressful environment.
Don't be surprised if your new fish is not happy and excited, they just traveled for a long trip to a new home, give them some time.

Adding the Fish

When you are ready to add your fish to the aquarium, you should follow these steps:

Take the sealed bag that your fish came in and float it on the surface of your aquarium's water.
Allow the bag to sit for 10-20 minutes, then open the bag and add a cup of your aquarium's water to it. Reseal the bag and let it float again for another 10 minutes. Slowly add your aquarium's water to it, the key is patience.
Repeat the previous step until the bag is full. Then, you can use a net to transfer the fish from the bag into the tank. Make sure not to pour any water from the bag into the tank.
During the transport, the fish may be shy, heavy breathing, color-changing, swim on the bottom, or hiding. It's will be back to normal after 1-2 days, don't be panic

After this, your fish is free to swim around and explore his new surroundings. Leave the lights off for a few hours as your fish adjusts, and make sure to look out for any signs of aggression in your fish population. And don't feed a new fish for the first 12-24 hours.

 
Refund Policy

To receive a full refund, orders must be canceled within 12 hours of the original purchase.
Cancellations made after 12 hours will be subject to a 20% restocking fee.
Refunds for cancellations made after 12 hours will be issued as store credit, which can be used for future purchases.
If any fish are deemed unsuitable for shipment due to health concerns, a refund will be issued for those particular fish to prevent the risk of cross-infection during transportation and to ensure timely delivery.
Shipping Policy

To make sure the fish shipped to you are healthy, all fish sold are subjected to at least 1 days of fasting before shipping out.
To avoid packages being delayed/held at the post office on the weekends, we only ship out on Monday, Tuesday and Wednesday.
Actual shipping carrier might be different from the customer's choice as we will switch carriers if the faster shipping time is offered from other carriers
Please be sure to be available on the delivery date or at least have a well protected container for receiving the package in case you are not available.
DOA Policy

At Tropicflow, we strive to provide our customers with healthy fish, but sometimes unforeseen circumstances can lead to unfortunate outcomes. As fellow fish enthusiasts, we understand that this can be disappointing, and that's why we offer a Live Arrival Guarantee.

To qualify for a refund, customers must fill out the Guarantee form within 2 hours of the delivery time, including photos and videos of any deceased fish still in the unopened bag, along with their order number

We will issue the refund in Store Credit / Gift Card equal to the deceased fish's value or replace a new fish

The shipping fee is non-refundable unless the whole shipment is dead on arrival.

Please do not mail any specimens back to Tropicflow.

Tropicflow recommends that all new aquatic life be quarantined for 14 days. We will not refund or replace any existing Live Fish, Invertebrates, or Live Plant that is injured or become ill as a result of introducing new aquatic life to your aquarium.

Conditions to Qualify for our Guarantee:

All claims must be brought to our attention within 2 hours of the package being delivered. (Please follow the instructions provided above)

A clear photograph of the damaged, sick, or dead fish, invertebrate, plant, or dry good is required.

Please provide one photograph of the unopened bag that contains dead livestock with the bag tie facing down as well as a second photograph of the dead livestock on top of the Styrofoam box top for easy counting purposes. 

Conditions that do not qualify for our Guarantee:

Livestock claims are voided if the customer misses the first delivery attempt.

If you miss the delivery and the package is delayed by a day or more, we cannot be held responsible for any losses. We advise customers to check the tracking number for delivery, as tracking numbers are provided in order shipment notification emails.

It is the responsibility of the customer to provide us with the correct shipping information. We can not be held responsible for deliveries made to the address that was provided to us if that address was incorrect. 

The shipment must be sent to the correct delivery address, and not forwarded to another address unless still delivered on the same day. Forwarding of packages results in an extra day or more in transit. 

Any extras that are sent are not covered under the guarantee.

We value our customers and strive to provide the best service possible, and we hope that our Live Arrival Guarantee policy demonstrates our commitment to your satisfaction.